Deals
Raspberry Pi Black Friday/Cyber Monday Sale of 2019
Hello Tinkerers,
I am happy to announce the best deals for the Black Friday and Cyber Monday to the electronics enthusiasts and Raspberry Pi lovers. Check the Raspberry Pi Black Friday and Cyber Monday deals below.
Save 20% Off On Elegoo EL-KIT-012 UNO Project Smart Robot Car Kit
Save 20% Off On Elegoo UNO Project Super Starter Kit
Save 11% Off On Cardone Select 81-1046PB New Wiper Motor Pulse Board Module
Save 28% Off On MeccaSpider Robot Kit For Kids
Save 35% Off On Micronoid Code Magna Programmable Robot Building Kit
Save 70% Off On Meccano – Micronoid – Red Socket
Save 37% Off On Meccano-Erector – Micronoid Code Robot Building Kit
Save 33% Off On Thames & Kosmos Remote-Control Machines
Save 20% Off On kuman 7 Inch HD Display TFT LCD Screen Monitor for Raspberry Pi 3
Save 20% Off On Makeblock mBot 1.1 Kit – STEM Education Robot Kit
Save 17% Off On Makeblock DIY mBot Ranger Transformable STEM Educational Robot Kit
Save 7% Off On Makeblock mBot Add-on Pack-Six-legged Robot by Makeblock
Save 30% Off On Raspberry Pi 7″ Touchscreen Display
Save 8% Off On ASUS SBC Tinker board RK3288
Save 25% Off On Elenco 130-in-1 Electronic Playground and Learning Center
Save 20% Off On Neiko 50413A Insulated Wire Terminals and Connectors
Save 14% Off On Elenco 300-in-One Electronic Project Lab
Save 24% Off On Young Scientist Club The Magic School Bus Engineering Lab
What is Raspberry Pi?
For those who are new to the Raspberry Pi, I will provide a brief explanation. The Raspberry Pi is a tiny, powerful, and affordable single board computer that can perform tasks like your full blown desktop PC.
You can modify documents, edit images, or even can play retro games on your Raspberry Pi. The Raspberry Pi circuit can also perform the best as a web server and allows you to establish a network for sending and receiving requests from a client device. Apart from this, the different Raspberry Pi boards can be used in numerous helpful and innovative electronics projects.
The Raspberry Pi Black Friday/Cyber Monday Deal
So, the wait is over. The year's biggest electronics sale has come again. The site has running the Black Friday sale from tonight and will run till the midnight of the Cyber Monday.
You will get up to 70% off on various Raspberry Pi starter kits, Pi project kits, SD cards, different Raspberry Pi boards, USB WiFi adapters and all the other components that you need to setup the Raspberry Pi project.
Not only this, every day the offers will change and a lucky buyer will get a surprise gift at the end of the sale. The winner will be chosen by a draw and will be announced on the site after the sale ends.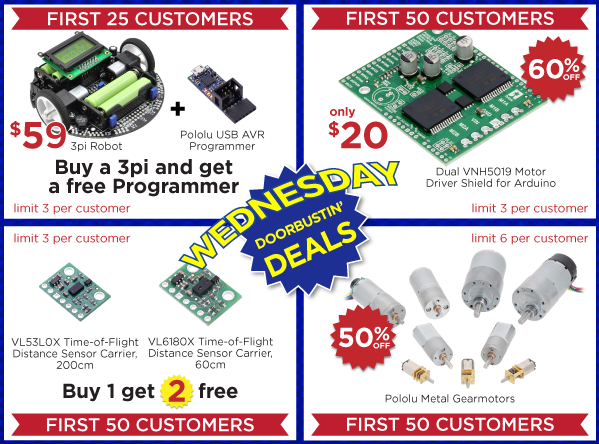 Sale start date: Wednesday, November 22, 2017
Sale end date: Monday, November 27, 2017
Sale end time: 11PM (GMT)
So, just set a reminder on your phone for the sale and grab the best opportunity to prepare for your next Raspberry Pi project.
The Specifications
The primary version of the Raspberry Pi board invented for the education purpose in the institutes and so did not have some advanced circuit design. But as the time progressed and the Pi became popular amongst the worldwide users, there are too many upgrades and versions made for this super powerful computer.
I will show you the top specifications of the latest Raspberry Pi 3 Model B which will give you a clear idea about its capabilities:
Broadcom BCM2837 System on Chip

ARM Cortex A53 1.2GHz processor

1GB RAM (LPDDR2)

Inbuilt WiFi and Bluetooth 4.1

Mountable GPIO header of 40-pin
Free Bonus
With every order above $100, $150, $200, and further you will get a surprise bonus of one, two, three, or more FREE Items. The offer will be applicable for only first limited users or till the stock lasts. So, don't wait and full your shopping cart!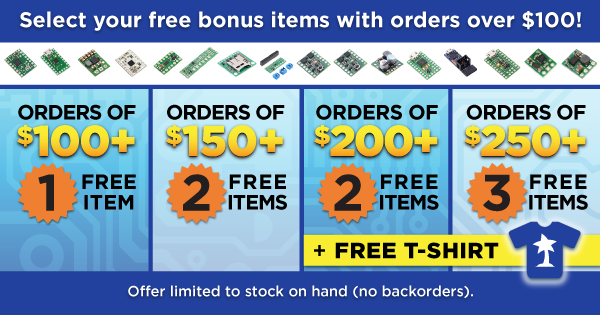 And yes, don't forget to get the FREE PDF Book on Raspberry Pi Projects. Subscribe today and avail the offer.
Get benefited from the Raspberry Pi Black Friday/Cyber Monday Sale today. Visit the sites below:
https://www.pololu.com/blackfriday2017
https://dfrobot.com/blog-770.html
Happy Holidays!